Canvas Tote Bag Offset (T-Shirt, Canvas Tote Bag, Mug, Key Chain)
Canvas Tote Bag Offset Printing With Personalised Design
Print Your Design Or Photo On Canvas Tote Bag
Custom-made canvas tote fabric bags available in a yellowish white colour with the size of 36cm x 40cm. They are perfect for promoting your event or brand and ideal to hand out as free gifts. We provide option of printing different designs on front and back. Create your attractive design and print them the way you want!
9. Hand out as free gifts
Specification:
Bag

Size: 36cm (Width) x 40cm (Height) x 0cm (Depth)

Handle Size : 50mm

Printable Area (Width x Height) : 180mm x 290mm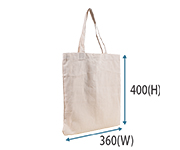 ---
How we print to your canvas tote bag?
We use direct to garment (DTG) printing.
Direct to garment printing provide a solution to printing smaller orders with an almost unlimited number of colors in the design.
Below video shows our printing process:
---
All job MUST be submitted with resolution of 300dpi
* Please save your artwork in PDF File without guideline.
---
Please be informed, production day is 3 working days after artwork confirmation exclude shipping days.
---

Cetak Reka Bentuk Atau Foto Anda Di Beg Tote Kanvas

Beg kain kanvas buatan khas yang terdapat dalam warna putih kekuningan dengan ukuran 36cm x 40cm. Ia sangat sesuai untuk mempromosikan acara atau jenama anda dan sesuai untuk diberikan sebagai hadiah percuma. Kami menyediakan pilihan untuk mencetak reka bentuk yang berbeza di bahagian depan dan belakang. Buat reka bentuk menarik anda dan cetak dengan cara yang anda mahukan!
Mereka sesuai untuk:
1. Bekerja atau sekolah
2. Beg membeli-belah
3. Beg berkelah
4. Beg Gim
5. Beg Perjalanan
6. Penyimpanan rumah
7. Beg Dobi
8. Beg mengait
9. Serahkan sebagai hadiah percuma
Purchase Now & Upload Design Later